Canada Yoga Teaching Tour 2017
Through the wonders of the internet and Skype yoga teaching, I've had the privilege of connecting with some amazing new friends, yoga teachers and entrepreneurs all over the world.
This summer, I wanted to turn that virtual connection into a bit of face-to-face travel teaching. A few of the inspiring people I've met online happen to live in Ontario, Canada. So earlier this month, I made a special trip up to teach, share and meet in person.
One of the first places I visited was my friend Nina's house located in the breathtaking area of Lion's Head on the Grey Bruce Peninsula. Up at the very North West tip of Ontario, Lion's Head is a small area, but is becoming more and more of a tourist attraction...for very obvious reasons.
Everyone I met in Lion's Head seemed to be living the dream. It's a place where doors are still left unlocked, everyone has a cool job and you're always bumping into someone you know (because there's only a couple hundred locals).
My lovely hosts, Nina & Jon, have the best kinds of outdoorsy friends. Even last minute plans can result in a quick kayak trip to a private island or a group run...complete with unbelievable views of the clear waters of the Georgian Sound.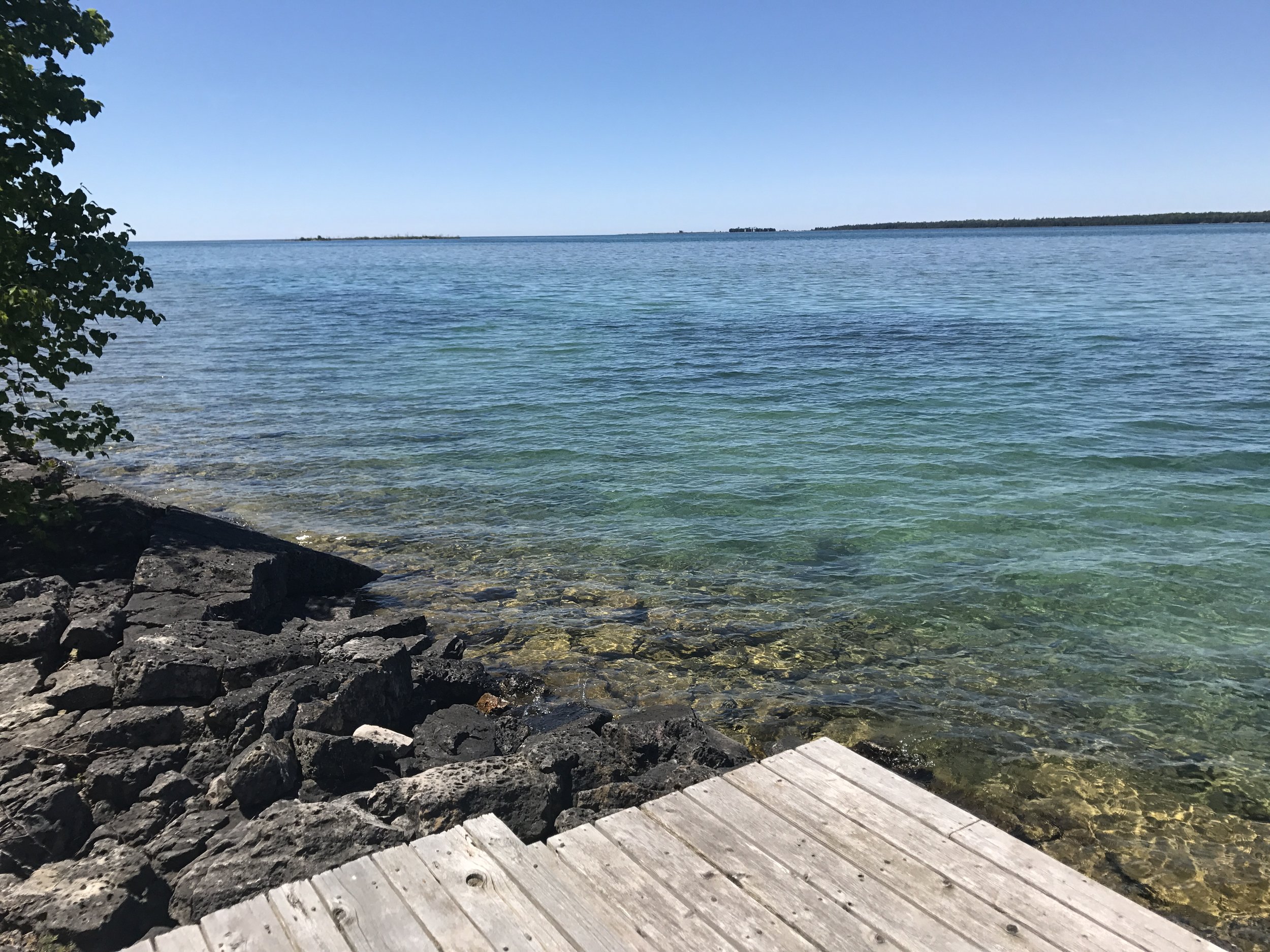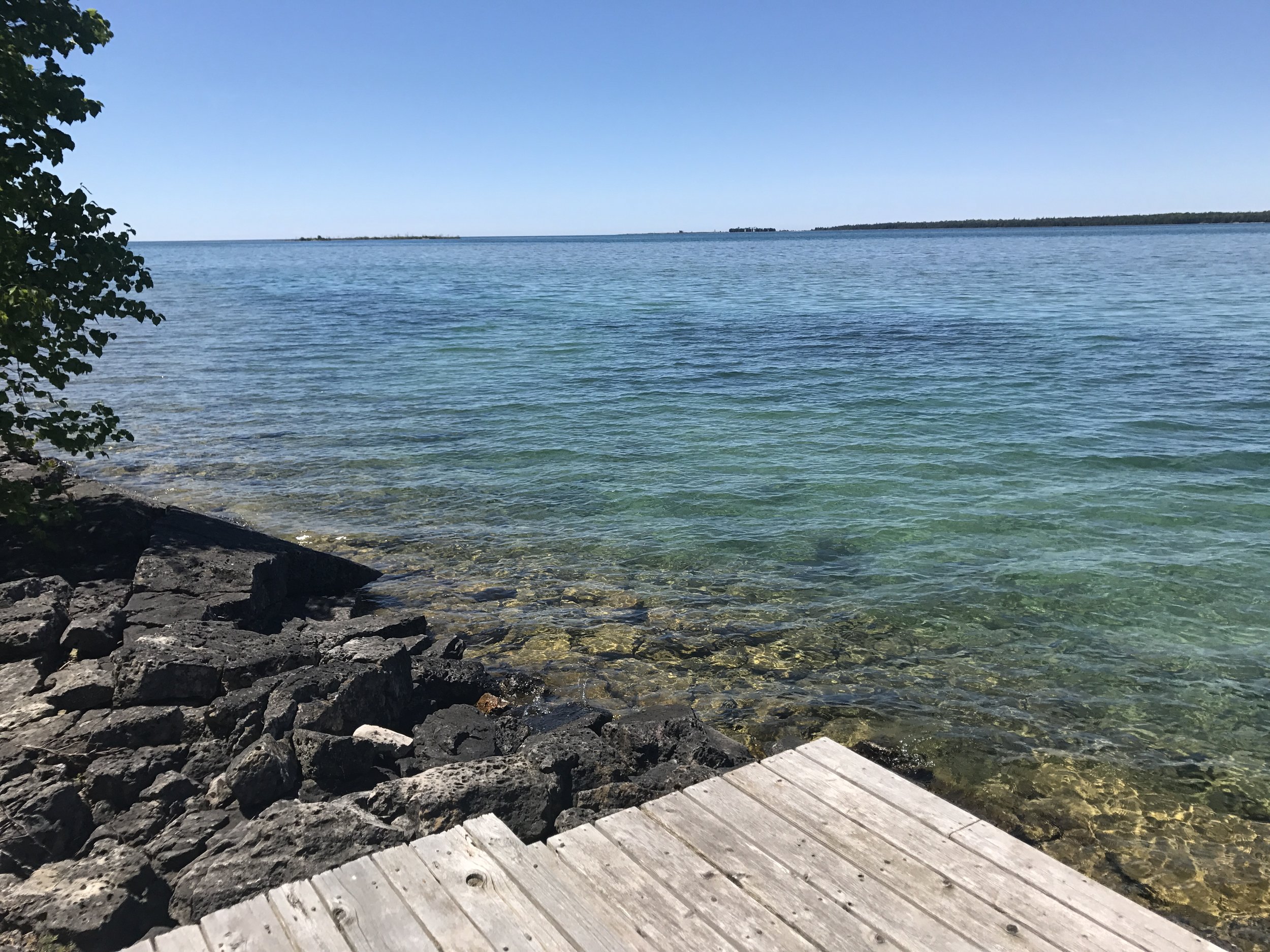 Only a 5 minute paddle from land, this sweet little island contains a cottage, an outhouse, and a bonus hut with a few beds. [Seems like it's just screaming to host a secluded yoga retreat, right?!]
Being surrounded by nature had me bursting with gratitude and energy.
I felt that the timing was right to part with my beautiful YTT mala. My teacher taught me that meditation malas hold energy and intention. To me, this one represented a period of my life that is complete in some way. Sometimes, just like with other objects, it begins to feel heavy or unnecessary, as you're ready for something new.
When a mala breaks on it's own or is intentionally broken, the idea is that it's time for big changes and new energy. Offering the seeds into a body of moving water is the physical act of releasing that energy. It felt right for me to break my mala while on that amazing trip. I'm not yet sure what it represents, but I know that I'm ready for something a little different.
Before I left the magic of Lion's Head, I also had the privilege of practicing Nia dance at my friend Wendy's hand-built studio, Rhythmwood.
The space practically vibrated with the love and energy put in to building it and the Nia dance was such a cool practice in remembering how to move freely. Wendy has amazing skill and energy as a teacher. (Check out her upcoming retreats in Ontario and Costa Rica!)
The studio is located on her private property along with a quiet pond, garden and hand-built off-the-grid log house. She and her husband also offer all sorts of cool classes on building log and hay bale structures. Absolutely inspiring!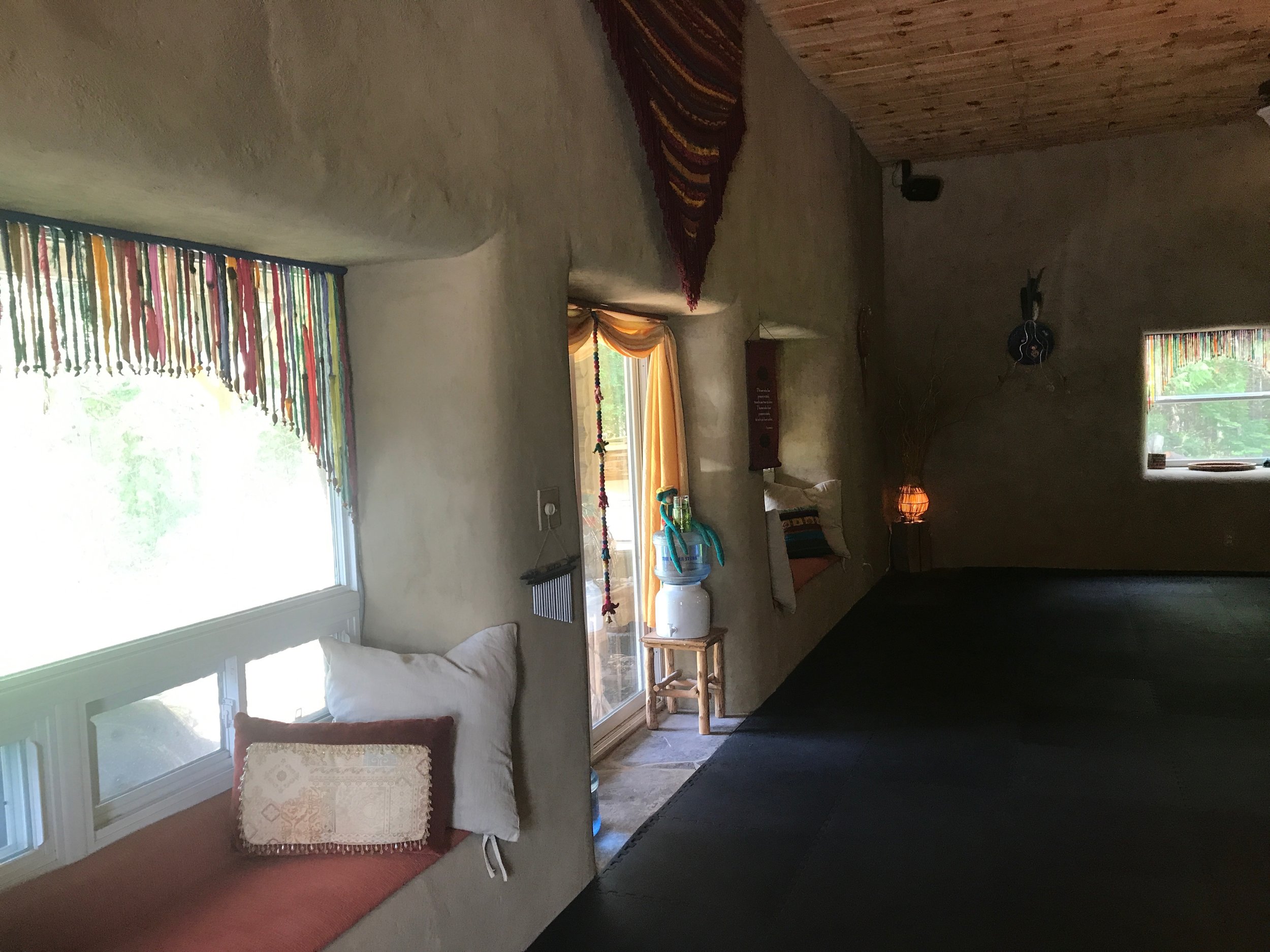 Southeast again to Owen Sound brought me to Tone Yoga Studio, located downtown in a gorgeous and historic old church.
Renovated and maintained by a benevolent yoga lover who lives happily in the church basement, the owner keeps the doors open for a wide variety of yoga, dance and music. I enjoyed teaching a workshop on Feelings & Emotions here as well as a Mudra workshop, both packed with fellow teachers!
After the workshops at Tone, I had planned to rent a car and drive south to Woodstock, Ontario for my remaining workshops. Saturday morning, Nina and Jon went to what was surely a charming farmer's market, but I decided to stay home to practice yoga. Before I set up my mat, I thought I would get squared away on the car rental.
After compiling a long list of rental places and corresponding reasons of why they couldn't give me a car, I was starting to freak out a bit. I never anticipated having any trouble obtaining a car. I talked to Nina and my friend Shannon for other options, looked into bus routes, absurdly priced taxi rental, ride sharing, and even checked car rentals anywhere within a 2 hour radius. There just weren't any options and we were on a huge time crunch.
Nina and Jon decided to lend me one of their cars to drive all the way to Woodstock and back up to Owen Sound the next day. With no real knowledge of my driving ability or trustworthiness, they saved the day. Nina claims that their generosity is a 'Canadian thing,' but either way, it was exceptionally appreciated.
So I made it to Woodstock, which turned out to be a heaven of old houses.
I woke up early Sunday morning to have plenty of time to explore and gawk at the architecture before sharing another Mudra workshop with an amazing group of yoga friends at Radiant Health & Yoga. Though the smallest group, they brought such great energy and questions! I wished I had more time to visit and chat.
I had many 'firsts' and learned so much about myself during this trip.
The entire experience (as always) was one big yoga practice. I experienced joy, sadness, fear, bravery and everything in between. I connected and disconnected in the best possible ways. I may or may not have learned the proper use of, "eh?" :) I saw water and cliffs and farmland that brought tears to my eyes and I met countless inspirational, creative and open-hearted new friends. Thank you to each and every person that helped to make this happen. Thank you to all of the studios, teachers and students in Canada and thank you to all of my teachers and students here at home.
Much love to you all, I'm looking forward to coming again soon!
P.S. Special thanks to Tina and Graham at Harvest Moon for giving me my very first (definitely not last) butter tart. :)
Interested in hosting a special Mudra, Chakra or Feelings & Emotions workshop in your area? If you're a studio owner, interested yogi or friend, I would LOVE to hear from you and meet you!